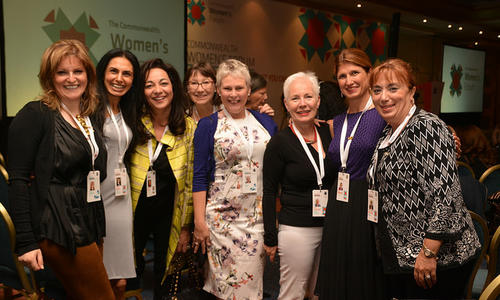 The CMJA was represented at the Commonwealth Fora held in the wings of the CHOGM by Dr Karen Brewer Secretary General. Dr Brewer made contributions from the floor at the Women's Forum.
In addition, the CMJA, as a member of the Latimer House Working Group was involved in the Panel session at the People's Forum (civil society) on Separation of Powers, Former Director of Studies and member of the Working Group, Hon. Keith Hollis spoke on the panel about the importance of ensuring that the Commonwealth Latimer House Toolkit was used out by Commonwealth governments and about the importance of protecting judicial officers at the lower level who are not covered by constitutional norms.
Other panelists included, Lady Hale, President of the UK Supreme Court who spoke about the importance of diversity in judicial appointments and a system based on merit, The Rt. Hon. Angelo Farrugia, Speaker of the Malta Parliament who spoke about the importance of an independent parliament with its own resources. Mrs Cheryl Dorall. Commonwealth Journalists Association stressed the role of the media as an oversight mechanism in the separation of powers.
The session was chaired by Mr Mark Guthrie, Acting Head of the Rule of Law Section of the Commonwealth Secretariat. We are grateful to Mrs Katherine Eden Haig, former CEO and Secretary General of the Commonwealth Lawyers Association for all her assistance with the organisation of this session with the Commonwealth Foundation.