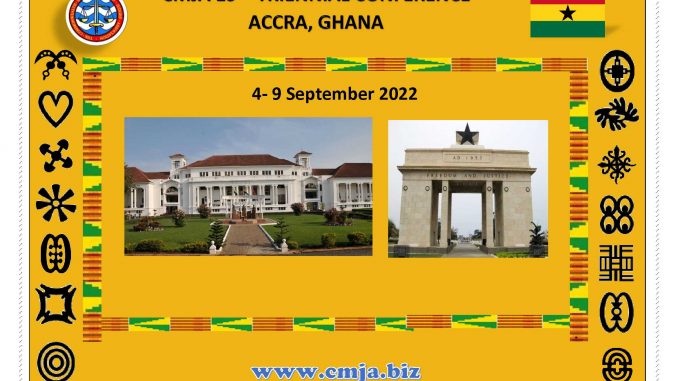 REGISTRATION NOW OPEN FOR THE CMJA'S 19TH TRIENNIAL CONFERENCE: 4-9 SEPTEMBER 2022
The CMJA's Triennial Conference will take place in Accra, Ghana on the Theme "Access to Justice in a Modern World".   This conference will be our first in-person conference since 2019,
Further information is available in the CMJA Conference website at www.cmja.biz  Early Bird Rates will be available until 15 MAY 2022.    With all the Innovations that have taken place since 2020 in the justice systems across the Commonwealth, why not share your experiences over the last few years or gain insights into what other jurisdictions have been doing to improve access to justice and adapt to the ever-changing circumstances?
We have a good line up of speakers from around the Commonwealth who will be contributing to the educational programme. Topics to be discussed will include the following sessions:
Access to Justice through Mobile or Virtual Courts;
Access to Justice – the Digitalisation of the Courts;
Latimer House issues about judicial independence post-COVID;
Gender Equality and Diversity in the Judiciary;
Do we learn the art of judging through osmosis or judicial education?
Compulsion in (alternative) dispute resolution;
Community Violence against suspected witches;
Accessing traditional court instead of civil courts;
Access to justice with delays, under-resourced buildings, overworked and unpaid judiciary and staff;
Prisoners- Are they humans or numbers?
The Protection of Cultural and Heritage in Conflict and Disaster Zones;
How safe is your Job? Security of Tenure for the judiciary;
Are We ever  off Duty? Standards of judicial behaviours in private life.
Lots to read? Learn the essential speed-reading skills.
We are also holding a number of Specialist Meetings on
Corporate responsibility for environmental, business and human rights;
Commonwealth Military Justice Transformation project;
Do Anti-Terrorism Laws Need to be Harsher?
Specialist courts for Family and Youth cases;
Adopting Sentencing Guidelines in Criminal Cases.
The Gender Section Meeting that usually takes place during the Conference will be held on Monday 5 September 2022.
The CMJA will also be holding its Regional Meetings and General Assembly during the Conference. Further information on this and the nomination and voting process for Council will be circulated in due course.